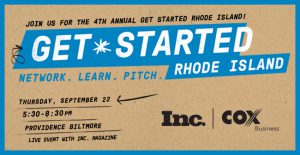 On September 22, 2016; Dyzana Consulting was privileged to have a special online Live viewing of a COX Business sponsored Get Started RI event for local Providence, RI residents to take part of an opportunity for entrepreneurs to present their chance to pitch to a panel of VCs and local exposure for a $40,000 prize!  This event was well organized and marketed by COX Business Blue Services for businesses and our friend Martin Jones.  Several local amazing entrepreneurs were the highlight of the evening and the opportunity to review the business owners pitch online to congratulate and encourage them while making lifetime connections.
#getstartedri #entrepreneurship #coxbusiness #dyzanaconsulting #providence #rhodeisland #createjobs
Cox Blue Event Link: https://www.coxblue.com/getstartedri/
There were over 100 Applicants and 6 businesses that made the cut for presenting a 3-minute Startup Pitch.  Here are a few Pictures of the event, sent from our friend Martin Jones!